Voice Broadcasting : NiceDial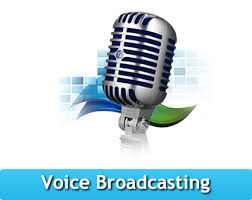 Voice Broadcasting
Voice broadcasting is a mass communication technique, that broadcasts telephone messages to hundreds or thousands of call recipients at once. Voice broadcast users can contact targets (whether they be members, subscribers, constituents, employees, or customers) almost immediately.
Voice broadcasting enables you to communicate with your customers by calling their Mobile/Landphone numbers anywhere in India with a pre-recorded voice message.
Voice broadcasting are completely automated process hence no operators or dialer is need to process the call, once the system is set with your pre-recorded message and contact list has been uploaded then our system will start calling the recipients and plays your pre-recorded voice message.
Why us for Voice Broadcasting Services?
Fast Delivery of pre recorded message
Easy to Setup
More Contactability
Cheapest and Best Services
Customized Reporting
Customized Solution that suits on your Business
24X7 Support
Want to have a free quotation?
Tags:
cheapest voice broadcasting services
,
customized voice broadcasting
,
nicedial
,
nicedial voice broadcasting
,
Voice Broadcasting
,
voice broadcasting services